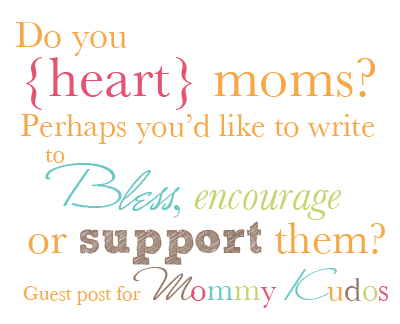 Would you like to write a guest post for Mommy Kudos? There are a few rules to follow:
Post must be original never having been posted elsewhere and not published anywhere else after being put up on Mommy Kudos.
The post must be relevant to the Mommy Kudos subject matter and aimed at moms.  Mommy Kudos is "all about what moms love."  You can read more about Mommy Kudos here.
Please include a photo(s) with your post that goes along with the subject matter.
Please include a short bio and picture of yourself and links to your blog if you have one.
Send me an email with your post in an email titled "Mommy Kudos Guest Post" to Kristin@MommyKudos.com
If your post is selected please link to the post from your own blog on the day it goes up.
I will review all posts that are submitted and let you know if yours is chosen and when it will be scheduled. Thank you!!