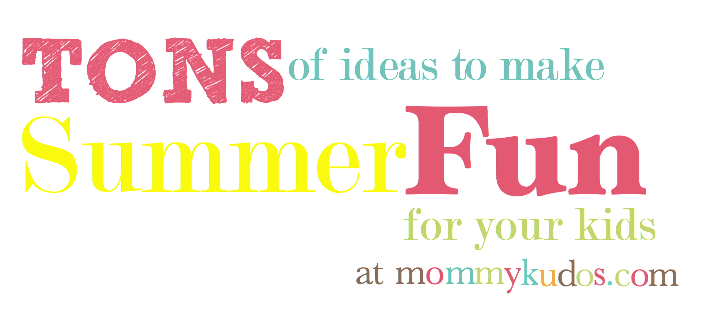 I don't know about you, but I tend to need ideas to make Summer fun for my kids.  I can get lost in my To Do lists if I don't plan ahead.  So, every Summer I grab a calendar and start planning in some simple and fun ways to spend time with my kids.  I like to ask my kids for their ideas and a "wishlist" of activities they would like to include.
With my calendar in hand I schedule the necessary things first (like doctors appointments) and I block off our vacation days if we are taking one. Next I go to work on adding the fun things we have thought of.  I like to include one fun thing each day.  For days when you have a lot of other stuff going on, pick something quick and easy. Here are some of the things on our Summer Fun list this year:
Water Day (water balloon fights, sprinkler and slip n slide play)
Go to the Library. Then have a contest to see who can read the most pages in a day (the younger ones can do picture books or have books read to them)
Visiting the local Farmer's Market and try some new fruits and veggies
What makes me special Day (highlighting each child and what are the things you love about them. Everyone can join in.)
Write and perform a (short) skit
Decorate your room Day (use items you already have, make something or splurge on something new)
Go to a field or park and have a family soccer game
Make Homemade ice cream
Have a shaving cream fight in the backyard and then run through the sprinklers
Write and illustrate your own book
Make a homemade version of your favorite candy bar
Art Day. Paint, draw, color, and then send your kids creations to their adoring fans (a.k.a. grandma and grandpa)
Baking/cooking class (making a favorite treat or simple meal)
A Visit to a local art museum
Have a reading hour everyday at the same time
Have a Lego building contest
Buy solid t-shirts and decorate them with fabric paint or tie dye
Picnic at a favorite park (or try a new one)
Taking those who serve you often (mailman, firemen, local police dept, etc…) a "Thank you" treat (cookies or brownies)
Pajama Day
Kids in charge Day (this one takes a brave mom!)
Play board games
Plant your own flowers or herbs Day
Make homemade play dough
Have a book or clothing swap with your kids friends.  Make it into a party
Explore local places that you have always wanted to go to (museums, parks, stores, etc…)
 There are many more ideas but you get the picture.  Next I put on the calendar things that I want to spend time working with my children on.  Some of these repeat in my calendar.  Even though these things take work I am trying my best to make these things fun too. Here are some of those ideas:
Tying shoes
Name writing and handwriting practice
Spelling
Grammar rules practice
Learning Bible Verses
Learning the Books of the Bible
Manners
For even MORE ideas follow my Summertime Fun board on Pinterest.  I'll be adding ideas throughout the Summer.  Have an idea I should add? Leave me a link in the comments to add it.
What are your ideas for a fun Summertime with your kids? I'd love to hear!
Next, I'll share with you some ideas for lunch and snack plans.  I hope you have a wonderful Summer with your kids that is full of wonderful memories!!