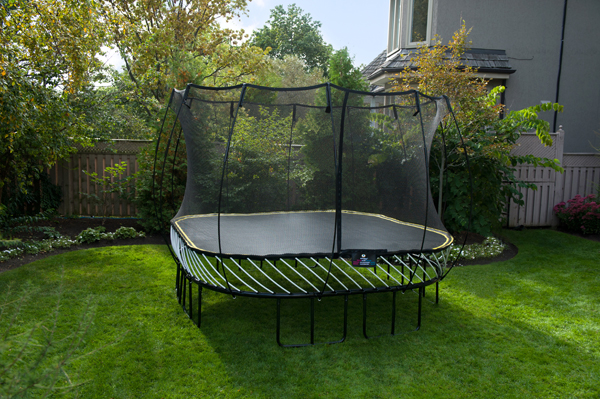 What kid doesn't love a trampoline?  I know I enjoyed jumping on a trampoline as a kid (still do).  But moms have all kinds of things to worry about with trampolines right?  They have springs that can pinch you or that you can fall through.  The nets that are made to keep you inside the trampoline can have hard metal bars that if you jump into them it could really hurt. And those are just  a few of the safety hazards.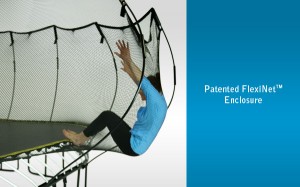 I had all of those excuses for not getting a trampoline even though I knew a trampoline would be a lot of fun for our family.  I knew my kids would love to jump on a trampoline and share it with friends but the idea of them getting hurt kept us from making the investment.  Then I heard about Springfree Trampolines.  This changes everything!

We visited the Springfree showroom here locally in Texas and were amazed from the moment we saw these very different looking trampolines.  There are absolutely no springs!  The mat that you jump on goes all the way to the edge and, just as amazing, the net that keeps you on the trampoline will hold you in if you fall into it.  There is nothing hard on it to injure yourself.  So as long as you are being smart about how you jump the risk of injury is almost none.
My kids were thrilled to spend about an hour and a half trying out each of the different sizes of trampolines (there's one for just about every sized backyard).  They had so much fun and got in some great exercise!
When our trampoline was delivered to our house (the S113 square) the kids wanted it set up right away.  We probably should have paid for the installation because we couldn't get it up soon enough for them and it was a lot of work.  It did take a good bit of time to get it set up.  My wonderful husband worked on it and got a kind neighbor to help (thank you!).
We got the trampoline set up just 5 days ago and my kids have been jumping on it every free moment they have had.  We had to have them jump one at a time and count to 100 jumps or 3 minutes max each just so they wouldn't argue over who's turn it was.  The first night I didn't get to go on the trampoline until the little kids had gone to bed but then I went out, just as the sun was setting, and I got a great workout jumping for only 15 minutes.  I was winded and tired after that and am excited to use the trampoline as a way to workout from now on.
If you've ever thought about purchasing a trampoline but hesitated because they aren't safe then you will want to consider the safest trampoline available: a Springfree Trampoline.  You can learn more about them by watching some quick videos on Youtube and by following Springfree on Facebook, Twitter or Pinterest.
And… I have great news! Springfree is giving away the same trampoline we have!! You could win a Large Square Springfree trampoline worth $1,899 by entering with the Rafflecopter entry form below (if you are reading this in email click over to the site to enter). Enter and share with your friends!!
Dislosure: Springfree provided my family with a trampoline for free to review in exchange for this post.  The opinions shared in this post are my my own and are honest.  I love to share with you what me and my family enjoy!